Sugarless Concentrated Bird's Nest - Used As Cooking Ingredients
Sku: 8936071090638 Vendor: Nutri Nest
Nutri Nest Sugarless Concentrated Bird's Nest is a great solution for your endless creativity with bird's nest. Products can be eaten directly or as a cooking material with the following benefits:
HIGH NUTRITION :

The raw materials are 20 grams of refined dry bird's nest are sterilized without sugar.

CONVENIENT :

The product is an alternative to dry nest that requires much time to soak and pluck feather. Sugarless Concentrated Bird's Nest easy to maintain, ensure hygiene, just open the jar can be cooked any favorite dishes.

SUITABLE FOR RESTAURANTS, EATERIES:

The product is easy to maintain, easy to quantify the food. Restaurant managers can easily implement the recipe and limit the amount of ingredients. It is necessary to manage dry nest.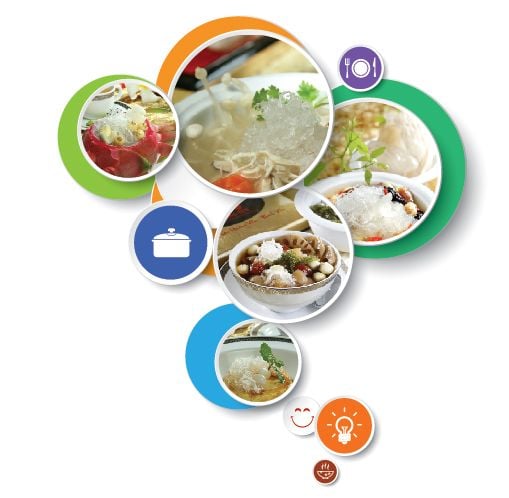 I. OBJECT USED
Sugarless Concentrated Bird's Nest is used to cook nutritious dishes for
Adults, body weakness, fatigue and thinness.

Patients, postoperative person with high nutritional needs

Children are thin, have anorexia

Women want to beautify the skin, increase the resistance.

The old people have a need for support their health.

Smokers and the person who working in stressful environments, toxic smoke



II. PRODUCT INFORMATION
1. INGREDIENTS
Real bird nest (20 grams of refined dry bird's nest are sterilized without sugar), Isomalt, Salt 0.2%, pure water, food additives (Xanthan gum, 327, 415, 331iii, Vanilla flavor). No preservatives, synthetic sweeteners and artificial colors.
2. USING INSTRUCTION
Each jar is made for 4 servings of the adult or 7 servings of the child.
Add to sweetened drink such as coffee, smoothies, juice, ice-cream…

Cook with congee, soup, braise & stew cuisines.
Cooked product.
3. PACKAGE
Jar 190gr
4. STORAGE
Clean, airy, avoid direct sunlight and heat. Store in the refrigerator for 10 days after unpacking.

5. EXPIRY DATE
24 months.
---
WHY SHOULD YOU CHOOSE NUTRI NEST ?
RELIABLE
ORIGIN
Bird's nest has been produced by the company inventing bird's nest farming in Vietnam (since 2005)
HIGH
NUTRITION
With the patented technique of harvesting "ONE SEASON NEST" for a clean nest and high nutritional value
TRANSPARENT
INFORMATION
Product traceability with QR code tracking from Farming, Harvesting, Processing
INTERNATIONAL
STANDARD
HACCP certified.