About Nutri Nest
Nutri Nest is the firs bird nest farming company in Vietnam since 2005 and Manufacturer of bird's nest products , bird's nest in high quality segment.
Our research on Edible bird nest farming won the Vietnam Innovation Award. We are involved in more than 500 bird farming house project in South East Asia since then.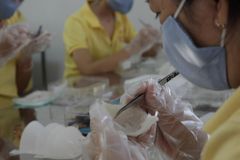 Nutri Nest factory located in District 2 - Ho Chi Minh City produces nearly 40 different types of nutritious foods originating from bird's nest such as pure bird's nest, bird's nest soup, soft drinks ...
Three pillars of Nutri Nest quality include Delicious - Nutrition - Convenience is realized in products through:
Source of homogeneous quality materials: Derived from the advantage of a leading bird nest farming system in Vietnam and applied the same construction and operation technology.
High nutrition: With the patented technique of harvesting "ONE SEASON NEST" for a clean nest and high nutritional value – a patent of Nutri Nest has been protected by the National Office of Intellectual Property.
Transparent information: Product traceability with QR code tracking from Farming, Harvesting, Processing
International standard: HACCP certified. High automation equipment line, experienced staff in the environment apply advanced techniques of the world in production management such as Lean, Kaizen, 5S ...








And above all we have the passion and responsibility of those who have pioneered to create the profession of bird's nest and bring the magical nutrition of bird's nest closer to all consumers.
Learn more here: Brand history story